What is SPARA
What is SPARA
SPARA is a truly green product, an environmental liberator. The world's first Power Management System based on Artificial Intelligence. SPARA means "SAVE", and it saves: energy, money and the environment.
It is estimated that 26% of the world's energy losses are caused by electronic devices alone being left in standby mode. Even more alarming is the fact that about 51% of these losses are accounted for by computers. Gartner estimates the total number of computers currently in excess of 2 billion machines.
During the current global transition to a green economy, energy awareness and consideration of how energy is used has become the most important precondition for implementing and using any technology.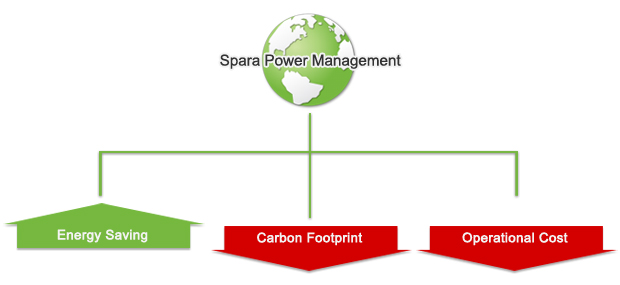 Click here to learn more about SPARA and how it works. Interested in knowing what SPARA can do for your organization? Click here to get in touch with us.
SPARA is an AI based solution that enables IT Administrators to implement Unique and individually tailored power management profiles for individual users on their networks. Variations in each user's behavioural patterns are recorded and interpreted intelligently by SPARA. Once deployed, SPARA's self-configuring software saves power as often and as economically as possible. SPARA provides maximum productivity with minimal power usage and CO2 emissions.
| Features of SPARA | Advantages of SPARA |
| --- | --- |
| Advanced Artificial Intelligence based Enterprise Power Management | Breakthrough in Carbon Reduction Technology |
| Grouping based on Behavioural Patterns | Adaptive, Flexible and Responsive Technology |
| Fully automated modes of operation. | Significant reduction in Energy Consumption, Co2 emissions and costs of operation |
| Extensive and exhaustive reporting capabilities | Measureable, definable and accurate |
| Personalised Power Management | ZERO human interference, framework modification, maintenance, training and management |